Natural, Integrative and Complementary Treatment Strategies
Mark A. Young, MD, MBA, FACP, Bryan J. O'Young, MD and Howard Hoffberg, MD
Natural, Integrative and Complementary Treatment Strategies
This article will focus on natural therapeutic and treatment modalities that can be applied to chronic pain patients who have experienced an exacerbation of their pain in the aftermath of tragedy or trauma. The reader is reminded that trauma can take many forms and is not necessarily limited to acts of terrorism and war crimes. Studies have documented that victims and observers of earthquakes, lightening storms, hurricanes and violent crimes have experienced a heightening of anxiety as well as an accompanying pain exacerbation.
Since stress and anxiety appears to have a major impact on pain intensity among victims of traumatic events, it is quite reasonable that holistic complementary medicine strategies, which place emphasis on the "mind-body connection," be preferentially deployed. There is an abundance of recent literature profiling the gamut of integrative strategies. In the catastrophic aftermath of Sept. 11, many Americans are now emphasizing the importance of a "back to basics" approach. While most of the specific treatments offered in this overview are not necessarily specific to terror-induced pain, many can be generically applied to patients with fluctuations in their chronic pain due to various forms of trauma.
Pain, Chronic Disease and Psychological Implications
Violence, mass acts of aggression and terrorism can provoke a "physiological alarm" among bystanders and those who are not directly victimized. An array of physical responses that can heighten pain can be unleashed. This can lead to a variety of somatic responses including muscle spasms, dysfunctional sleep patterns and significant pain exacerbation.
On a psychological front, it is important to recognize that chronic pain patients, who have experienced forms of trauma, may confront some very powerful emotional reactions that may cause the pain to flare and amplify. Immediately after a traumatic event, people may experience shock and denial, both of which are protective responses. As a result of Sept. 11, many people felt stunned and dazed during the immediate period after the attacks. This slowly gave way to a state of numbness and denial in which victims and bystanders failed to grasp and acknowledge the full intensity of the event. In the case of Sept. 11, many people, who were initially in utter disbelief, suddenly came to the stark realization that something awful and cataclysmic had taken place. In many cases, people suffering with chronic pain reported dramatic worsening in symptoms.
Case Reports
Two representative case reports will serve to highlight the importance of a multi-disciplinary program incorporating complementary strategies to help conquer the pain compounded by the Sept. 11 tragedy and other calamitous occurrences.
A 45-year-old secretary with a diagnosis of fibromyalgia sustained a significant worsening in her shoulder and neck pain following Sept. 11. Although neither she nor any of her family members were directly affected, she reported that the tension and the stress of the day contributed significantly to a pain worsening. Per the recommendation of her physician, she was started on an aerobic exercise program emphasizing swimming and brisk walking three times weekly. In addition, she was started on a yoga program and was referred for acupuncture treatment to help her deal with her anxiety and pain. After several weeks of this structured program, she reported an improvement.
A 72-year-old senior citizen with chronic pain associated with a history of Degenerative Joint Disease (DJD) — affecting her knees and hips — noted a significant worsening in her pain intensity following Sept. 11. Since one of her children was in the army, she became very anxious about his welfare and safety should he get "called up". She also spent several sleepless nights reflecting on the tragic and unpredicted events of Sept. 11. Due to a significant pain exacerbation of her knees, the patient was started on a physical therapy regimen that consisted of quadriceps strengthening exercises, thermal modalities, ambulation exercises and a stretching program. To lessen her lingering symptoms of anxiety, she was taught a series of deep breathing exercises. In addition she received three sessions of hypnosis. The patient noted a significant improvement in her pain following a two-week period. Although the trauma of Sept. 11 would always persist, her physical pain complaints progressively improved.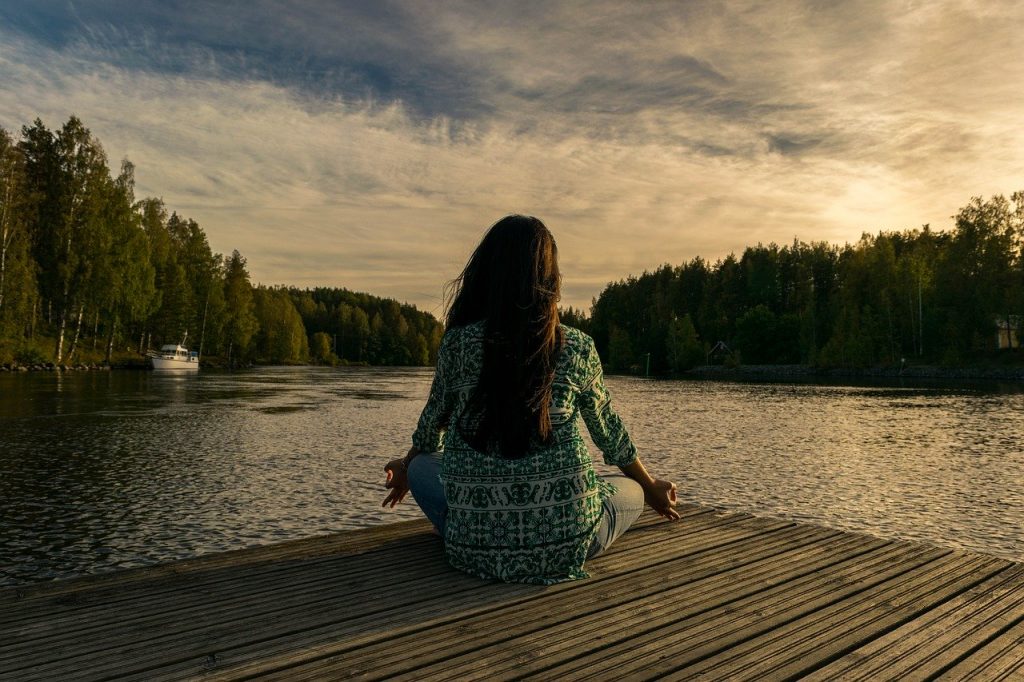 A "Mind-Body" Overview
Pain management is enhanced by methods that increase the pain sufferer's sense of mastery over his or her symptoms. It is probable that a perception of loss of control is one element in the intensification of pain symptoms experienced by chronic pain sufferers. Breathing exercises, guided imagery and yoga are practices that are likely to help individuals feel greater control of their symptomatology. Other self-empowerment activities include: attending pain support groups, participation in religious activities appropriate to the individual's belief system and engaging in productive behaviors including working, family duties and volunteerism. Finally, it is critical to rule out major psychiatric conditions such as mood disorders, anxiety disorders, somatization disorders and psychotic disorders which must be treated to optimize pain control and remove potential confounders.
Exercise as a Treatment Modality
The power of exercise can never be understated. Exercise helps to promote release of endorphins, the body's natural painkillers. Accumulating scientific research supports the role of exercise in battling chronic pain conditions exacerbated by stress including low back pain, tension headache, Temporomandibular Joint disease (TMJ) and complex regional pain syndromes. Aerobic exercise can relieve symptoms associated with osteoarthritis, rheumatoid arthritis, as well as fibromyalgia. Exercise also helps to fight depression. Anxiety and stress associated with national catastrophes and cataclysms, the likes of which were experienced on Sept. 11, can be "worked off" with exercise.
Exercise should include varied elements including aerobic exercise, stretching, flexibility and strength or resistance training. Aerobic exercise is helpful because it enhances overall fitness by optimizing the body's use of oxygen. Aerobic exercises include swimming, brisk walking, bicycling and dancing.
Stretching exercises help to improve physical performance by increasing blood and nutrients to the joints. In so doing, stretching may reduce soreness and enhance posture and balance, as well as enhance range of motion.
Strength training is also an important facet of exercise since it helps to prevent injuries by making muscles, tendons and ligaments less vulnerable.
Yoga: Finding the Balance Between Mind and Body
Yoga is thought to prevent illness by maintaining balance between the mind and body. For people who have experienced pain exacerbations magnified by trauma, tragedy and terrorism, yoga may be an ideal modality because it helps to stabilize the physical as well as the mental elements. Many trauma survivors have anecdotally reported a significant reduction in anxiety and chronic pain after initiating a yoga program.
While there are many different yoga poses that the chronic pain sufferer can easily utilize to decrease his or her symptoms, the authors include a selection here. Yoga is an art and frequently requires years of study and practice and therefore it is important to seek out the help of a yoga instructor. Please note that these exercises should be carefully prescribed based on a patient's physical limitations and capabilities. Here are two recommended yoga poses that may be helpful.
Hero Pose (Virasana)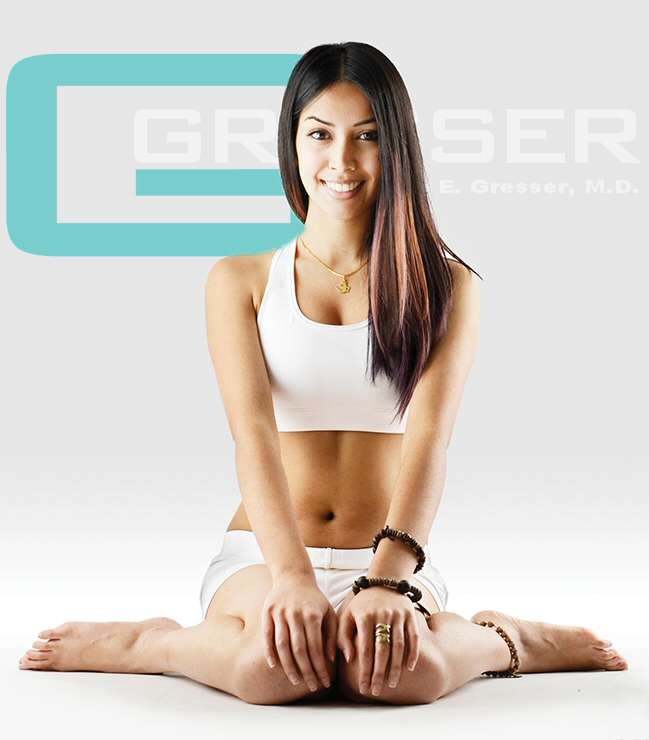 1) Kneel on the floor with knees together and feet spread approximately 18 inches apart
2) Rest the buttocks on the floor or on a small pillow or rolled up towel.
3) No weight should be put on the feet but on to the sides of the thighs with the inner side of each calf touching the outer side of the thigh
4) Keep the toes pointing back and again touching the floor
5) Put hands on knees with palms facing up. Use each hand and form a circle with the thumb and index finger while keeping the other fingers extended.
6) Hold the position and breathe deeply for as long as possible.
Tree Pose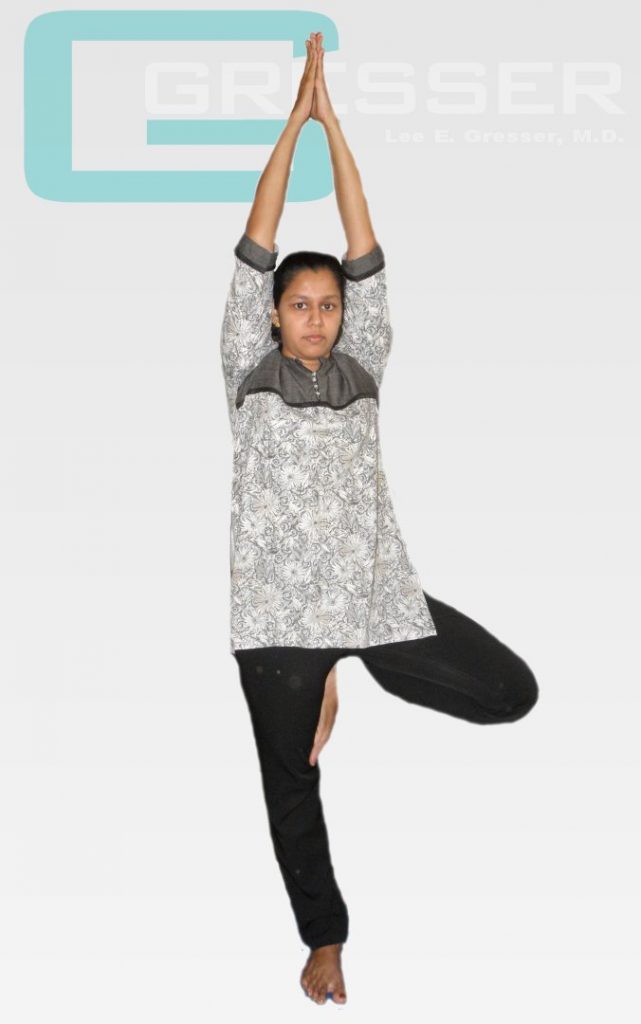 1) Stand with your feet together and arms at the side
2) Shift your weight to right foot.
3) Using your hands, place left foot on right ankle, calf or thigh.
4) Identify a point of focus on the floor or on the wall.
5) Place your palms together in front of the heart and raise them overhead, maintaining elbows straight.
6) Balance evenly on the inner and outer edges of the right foot
7) Slowly push raised leg to the side and to the rear.