In part 2 of this series we continue to explore even more powerful ways to treat pain naturally.
Acupuncture
The use of acupuncture is beneficial not only in terms of pain control but also in terms of stress and anxiety reduction. Acupuncture involves the insertion of fine sterile needles into specific anatomic locations at specific angles and depths in order to influence the flow of what is referred to as 'Qi', and described as a vital force in the body. This enhances the body's ability to self regulate and thereby promotes the body to heal and reduce pain. The pathophysiologic mechanism lies in the activation of the endogenous opioid peptide system.
Acupuncture may be an ideal modality for chronic pain sufferers whose pain has been made worse by traumatic events like Sept. 11 since it exerts a calming, soothing effect (anxiety reduction) and helps to decrease pain associated with traumatic events.
Role of the Support Group
People who experience chronic pain often report that stressful events cause an exacerbation of their pain symptoms. The anxiety associated with this often has a negative impact. Free and open communication with others in a similar situation can help to lessen the impact of a stressful event.
Research conducted on people who experienced a traumatic event has shown that candid dialogue can help reduce symptoms. A research investigation of Hawaiians who had survived a hurricane showed that those who received counseling were better able to cope years later then those who received no intervention.
Biofeedback
The use of biofeedback provides the patient with a sense of control in reducing both pain and anxiety. Biofeedback therapy refers to the use of biofeedback instrumentation for the clinical goals of symptom and medication reduction, prevention and enhanced quality of life. The clinical goals are achieved through psycho-physiological self-regulation, a term describing the process in which mental, emotional, and physiological strategies and skills are learned and used by the patient. This provides a sense of empowerment as the patient has the ability to influence and control his/her own body.
In 1989, a group of biofeedback clinicians and researchers from several institutions assessed the clinical efficacy of biofeedback and found that biofeedback is effective for anxiety disorders and certain types of pain such as myofascial pain and rheumatoid arthritic pain.
Biofeedback therapy for muscle relaxation can involve the use of placing Electromyographic (EMG) electrodes on a muscle and teaching the patient to increase and decrease the level of firing created by the tension or tone in the muscle. When the patient has thoroughly understood the relationship between muscle contraction and relaxation with the corresponding visual and auditory display changes, the electrodes may be placed on the affected muscle. The concomitant use of deep breathing exercises, music, relaxation tapes and progressive relaxation techniques are very helpful in decreasing muscle tension.
Controlling an individual's response to stress through a relaxation training response has been a useful adjunct. EMG, temperature and electroencephalographic sensors allow the subject to modify their efforts to elicit a relaxation response. Other methods include imagery techniques, breathing techniques, and cognitive-behavioral counseling. The challenge to these interventions is training the patient to generalize the relaxation response during stressful periods outside of the therapeutic environment. They can be used to lessen the impact of pain.
Relaxation Strategies
Stress and anxiety can cause muscles to become tense and result in an exacerbation of anxiety. Relaxation techniques, meditation and imaging techniques may help to reduce pain by reducing tension and enhancing ones mental state.
A technique known as 'Progressive Muscle Relaxation' can help to focus attention on reducing muscle tension in major muscle groups by systematically tensing and then relaxing individual muscle groups.
Instructions
Create an inviting, relaxing milieu by turning down the lights, playing soft background music, lighting a candle.
Wear comfort- able clothing and remove shoes.
Lie down on a firm, flat surface such as a couch, bed or floor.
Beginning with the feet and working up, slowly tighten and relax all muscles in the body.
Meditation Techniques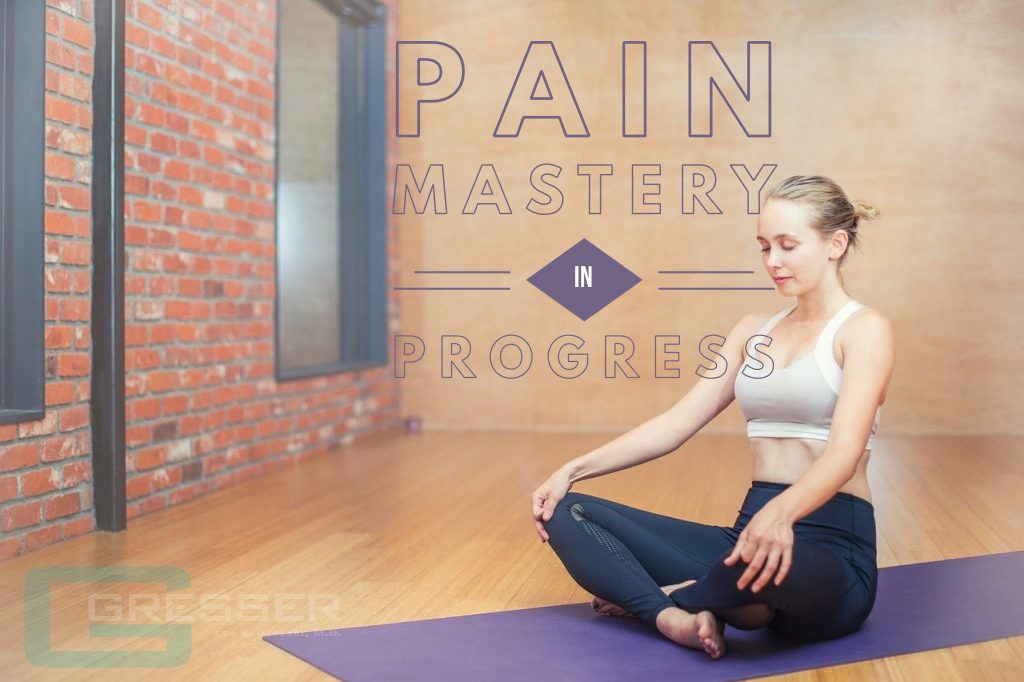 Although there are numerous forms of meditation including stationary forms and dynamic forms (tai chi, yoga), this age-old modality, regardless of format, can beneficially affect mind and body. The major goal of meditation is to achieve a state of relaxation and tranquility while preserving awareness. For the chronic pain patient who has experienced the psychological and physical consequences of trauma, meditation can bring about a pleasant set of psychological and physical benefits. There have been many studies demonstrating the physical and psychological benefits of relaxation and meditation. These include reduced pain, anxiety reduction, and depression reduction and stress relief.
Try this simple meditation technique
Wear comfortable non-restrictive clothing and to sit in a quiet, warm, well-ventilated place.
Sit up in an erect, relaxed fashion. Keep back straight and shoulders relaxed. Use a pillow for support. Hands can be kept on the lap or on the knees to maximize comfort.
Keep eyes closed.
Breathe deeply in and out through the nostrils.
Slowly relax body (shoulders, hands, fingers, toes, feet, legs, neck and face).
Focus on one word or phrase.
Meditate for 15 minutes to 30 minutes.
When you are ready to stop, take a deep breath, exhale and gingerly stretch limbs and open your eyes.
Music Therapy
Music therapy includes listening to music, making music or creating music and may have healing powers. Music has been described by master clinicians as "a joyful expression of life… which can lift our fallen spirits, enrich our busy minds and heal our battered bodies." Music has been anecdotally reported to reduce anxiety, decrease fear and serve as a "mood modulator." Music may facilitate exercise by enabling patients to exercise more optimally and more regularly to the "sound of music." During the throes of Sept. 11 painful aftermath, a significant number of patients in this cohort helped to beat the pain and anguish of the national crisis by playing common patriotic pop songs.
Pharmacotherapy
Although there are a multitude of analgesic medications available to the clinician, there is much to be said for maintaining a simplistic, "back to basics" approach to medication management. For those with simple musculo-skeletal pain and no contraindications, use of over-the-counter NSAIDs are a reasonable option because they possess not only analgesic qualities but also anti-inflammatory properties. Long recognized as the "grandfather of anti-inflammatories," aspirin traces its history to the days of Hippocrates when the 5th century physician is said to have ground willow bark containing salicin (an aspirin derivative) to battle aches and pains. In more recent years, aspirin has been extolled because of its protective cardiac and neurological effects. Because of its anti-inflammatory, antipyretic and analgesic properties, enteric coated aspirin represents an ideal option for people who do not have any gastro-intestinal, hematological or systemic contraindications.